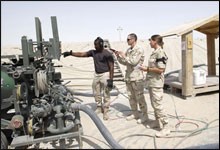 ASG provided high-impact DOEHRS (Defense Occupational & Environmental Health Readiness System) program training and data input support for the Bioenvironmental Engineering Flight at Incirlik AB, Turkey. DOEHRS is the management information system tool used by the Bioenvironmental Engineering personnel to track the longitudinal occupational exposure history of all military personnel. ASG conducted a 9-day course that included data validation and on-site DOEHRS training to elevate installation exposure documentation.
To learn more about ASG's DOEHRS Training and Support services, click here.
Don't worry, no spam here!
Keep up to date with the latest trends, best practices and innovations in the Emergency Management and Environmental, Health and Safety sectors.