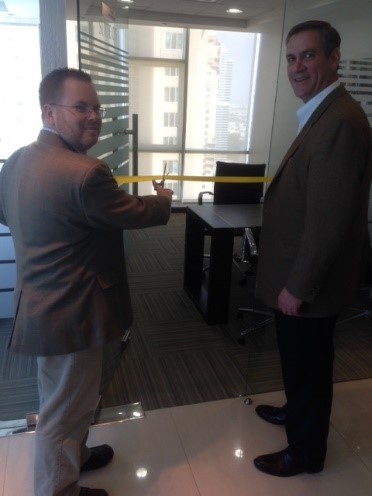 Amanah Solutions, the newest member of the Alliance Solutions Group (ASG) family of companies, officially opened doors to its new home in Dubai on February 10th. Amanah Solutions will exclusively serve the Gulf Cooperation Council region with world-class health, safety, environment and emergency management services.
Over the last decade ASG has provided innovative health risk and emergency management services with measurable results for their customers. High demand for ASG's services has catapulted ASG onto the Inc. 5000 list of fastest growing companies twice in a three-year period. Bob Campbell, President of ASG, said that launching a business in Dubai was an integral part of ASG's business strategy. He continued, "We recognize that the United Arab Emirates (UAE) leaders want their country to be the best. Based on ASG's results and our customers' feedback, we believe we can help make the UAE's vision become a reality with our proven services and methods."
ASG has reduced health, safety, and environmental risks for their clients by over 28% in the last three years. ASG has also prepared nearly 100 communities and their emergency responders for disasters, world-wide. ASG focuses its services around an all-hazards, whole community approach. Campbell, in a chapter from the recently published Handbook of Emergency Response, shared ground-breaking solutions for how to integrate response teams during multiagency incident response operations. Campbell's text was based on a meta-analysis of over 1500 responder training and exercise events. These solutions, in partnership with the world-class training facilities throughout the GCC region, are what Campbell and ASG, through Amanah Solutions, hope to provide.
Campbell appointed health, safety, and environmental risk management expert Paul Legendre as General Manager of Amanah Solutions. With over 30 years of his own expertise to draw upon, as well as proven leadership experience, Legendre is hitting the ground running in Dubai.
Legendre believes, "This is an exciting time to be in Dubai, an innovative city with a desire to implement world-class practices and standards. I have high expectations that our innovative approach will be a perfect match."
Campbell would like to express his thanks for the support and encouragement he and ASG have received over the last year from the Virginia Economic Development Partnership. "These professionals exemplify a successful public-private partnership," said Campbell.
For more information contact ASG.
Don't worry, no spam here!
Keep up to date with the latest trends, best practices and innovations in the Emergency Management and Environmental, Health and Safety sectors.